---
Festivals
This week on The Exchange, Salt Spring Island's online community board, we saw photos of the week include a beautiful Farm to Table, Canada Day Fireworks, and much more.

Images from Salt Spring on Instagram
On Salt Spring there's always something to learn and share and – at this time of year especially – many options for enjoying quality food and art. Festivals on Salt Spring are an opportunity to feel the energy of community and celebration. Why not plan your vacation around one of these great events?
Salt Spring Chamber Music Festival
Performances: July 22nd & 23rd, 2016
What started in 1998 as an instant love affair with an idyllic and artistically inspiring gulf-coast island continues to this day as an international celebration of one of life's noblest pursuits – chamber music.
The Salt Spring Chamber Music Festival brings distinguished young musicians from near and far to ArtSpring, the Island's Arts Centre*, for "an immersive week of music-making that includes masterclasses, coaching, string orchestra and chamber music showcase". To close the festival, ArtSpring hosts 2 incredible live performances. Expect new works as well as great masterpieces. Artists in residence (faculty members) this year include cellist Brian Yoon.
*ArtSpring is located downtown Ganges, a few minutes walk from Mariner's Loft.

Image credit: Salt Spring Chamber of Music.
---
Salt Spring Music & Garlic Festival
August 6th-7th, 2016
Make a trip to the Island's South End for this wonderful family event at Paradise Within Farm.
A Weekend full of live music and local food, this festival is a lot of fun. The schedule includes activities for children, and 12's and under are free.
…two days of top class entertainment at the one of a kind island flavoured Festival…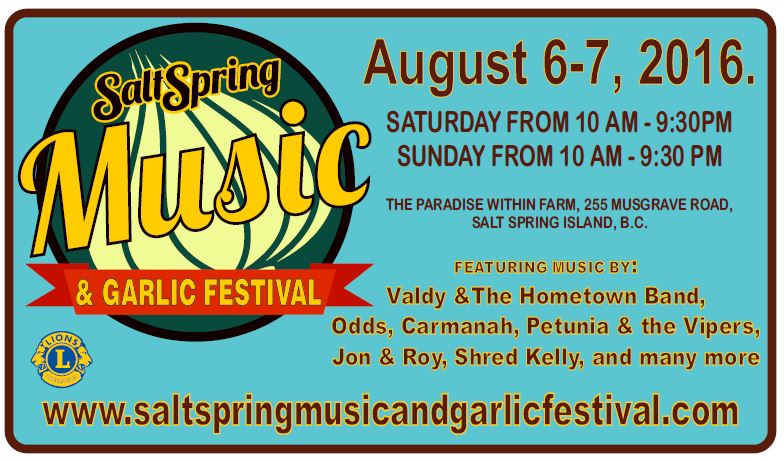 ---